Berlin Atelier Exhibition: Finding Afghanistan
Finding Afghanistan is exhibited in the Berlin Atelier for Photographie from Sept. 3rd and – Nov. 3rd 2015. The gallery has prominently featured in the European Month of International Photography in Berlin.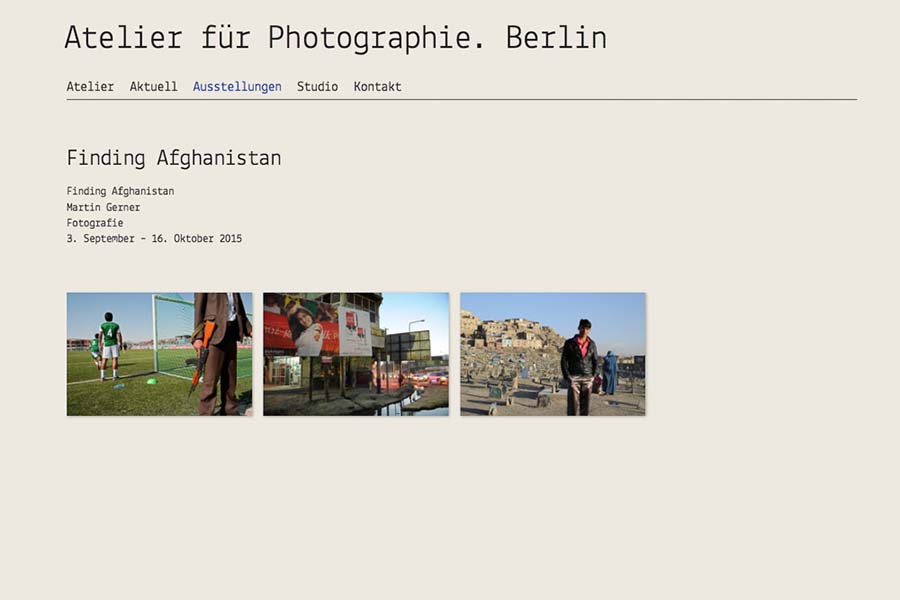 Finding Afghanistan – Atelier für Photographie Berlin
Der freie Fotojournalist und ARD-Korrespondent Martin Gerner hat Afghanistan seit 2001 intensiv bereist und vor Ort ohne die Beschränkungen militärischer embeds gearbeitet. Seine Begegnungen mit Menschen in Kabul und den afghanischen Städten stehen im Zentrum der Ausstellung Finding Afghanistan. Kriegsalltag zwischen Traum und Trauma, Sehnsucht und Terror.
"Modernisierung als Kampfansage an Taliban und gewendete Warlords; die Kraft der Menschen trotz Not und endemischer Gewalt; der Wunsch etwas aufzubauen und teilzuhaben an der globalen Wirtschaft; Möglichkeiten eines Dialogs auf Augenhöhe – alles das steckt in den Bildern", so Martin Gerner.
Die Ausstellung dokumentiert Widersprüche der ausländischen Intervention am Hindukusch über das vergangene Kriegsjahrzehnt. Eine Auseinandersetzung mit dem Bild des Anderen über eine oft missverstandene Bevölkerung.
Gefördert von der HYPO-KULTURSTIFTUNG
Vernissage:
Donnerstag, 3. September 2015 ab 19 Uhr
In Anwesenheit des Fotografen & Autors
www.martingerner.de
www.generation-kunduz.com
Atelier für Photographie
Christburger Str.18
10405 Berlin
Tel: 0173 9524982